Josie Wynn 4th Dan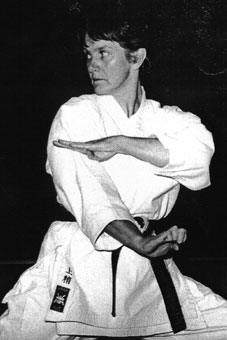 Josie started training in 1984 at the age of 37 and gained her first black belt in 1988. During her training she sustained many injuries and health problems, but these only served to strengthen her determination to continue.
In 1992, she successfully passed her examination for 2nd Dan black belt and in 1996, at the age of 49, she gained her 3rd dan black belt at Chesterfield before a grading panel consisting of Master Keinosuke Enoeda, 8th Dan, Chief Japan Karate Association Instructor to Europe and Chief Instructor to the Karate Union of Great Britain (KUGB) and Andy Sherry 7th Dan, Senior British Instructor and Chairman of the KUGB.
In October 2006, she successfully passed her 4th dan Examination at Egham on the KUGB Senior Dan Course and Grading.
She has a deep belief in the value of exercise for older people, and in October 1994 she had an article published in the UK's premier Martial Arts magazine 'Fighting Arts International' which resulted in her receiving letters from all over the UK.
The article was called 'The Late Comers', and detailed all the trials and tribulations of an older person deciding to take up a high level activity such as Karate.
It also detailed all of the benefits that she has gained and the article has been an inspiration to many older people who have approached her at Championships and said:
"Without your article, I would have given up, but after reading it I decided to keep trying, and I'm now very glad that I did!".
Josie's next challenge was to gain her Judges and Referee qualifications in October 1997. In August 2007, she successfully qualified as an Assessor for the KUGB Instructors Examination. One of the Senior Instructors at Torashin, Josie specialises in self defence and 'Deai'.